November 9, 2022
Posted by:

Manoj Pandey

Category:

Cloud Engineering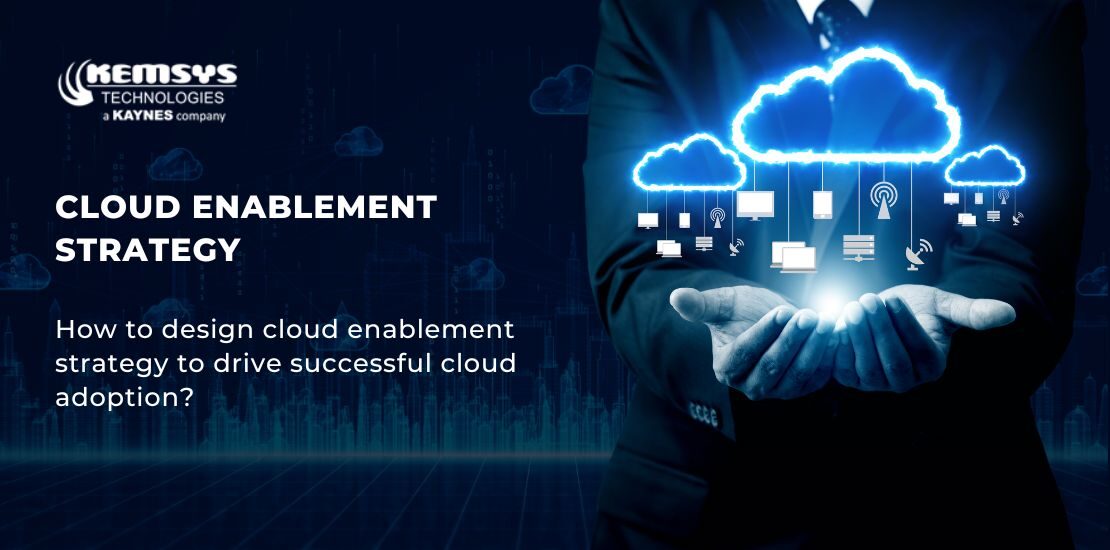 As cloud computing is becoming the 'new normal,' businesses are migrating their workloads and infrastructure to the cloud to experience scalability, enhanced performance, and reduced costs. Organizations are eagerly adopting a cloud-first strategy. More than 95% of enterprises are estimated to be using cloud services by 2025, compared to only 61% in 2020.
Jumping on the cloud bandwagon is not only a safe move but also a strategic decision for enterprises.
But before making the move towards a cloud strategy, it is important to critically analyze the entire gamut of cloud enablement strategies, understand their benefits, and choose one that suits your business needs.
What is Cloud Enablement?
Cloud enablement is a method of analyzing your enterprise's current IT infrastructure and designing an effective cloud-based solution. It can include moving a small segment or the complete IT infrastructure, resources, data, and software to a cloud—a public, private, or hybrid environment. A cloud enablement solution could include deploying a new cloud-based solution or migrating applications, servers, data, or operating systems to the cloud.
Organizations draw up a cloud strategy by defining the cloud functionality they are requiring, the architecture, processes, migration, deployment, and governance. The cloud enablement strategy should ideally begin by defining the business, product, and internal customer needs. Designing a cloud strategy is never a one-time operation. It is an iterative process that involves designing, refining, improving, and revising the strategy.
Designing a Cloud Enablement Strategy
1. Defining the Business Needs
It is critically important to define your business needs and result expectations. There could be several reasons why your business wants to move its resources and workloads to the cloud. It could be cost cutting, performance improvements, or scalability. Each enterprise should define its priorities and goals. Migrating to the cloud just because it is the latest fad cannot give you the right results.
2. Assessing the Current IT Environment
The next step would be to assess the existing IT environment in your organization and recognize the pain points and challenges. Evaluate the state of your on-premises set-up and gain a deeper understanding of organizational and departmental needs.
A thorough evaluation will help you identify the roadblocks and drivers for cloud enablement.
3. Choosing the Cloud Model
There are three major cloud deployment models – public, private and hybrid cloud. It is important to evaluate each of them on their merits and factor in the pros and cons before making the decision.
Public Cloud: The cloud provider owns and manages the infrastructure, software, and hardware. The third-party provider offers this computing services on-demand to businesses and individuals on a pay-per-use model.
Private Cloud: This cloud computing infrastructure is owned, managed, and used exclusively by a single organization or user.
Hybrid Cloud: A hybrid cloud integrates at least one public cloud and one private cloud in a mixed computing environment.
Read more on types of cloud computing models and find out which one suits your business needs.
4. Defining the Architecture
A well-defined architecture makes cloud migration that much easier and more efficient. Generally, there are three types of services provided – Infrastructure as a Service, Platform as a Service, and Software as a Service.
Infrastructure as a Service(IaaS): is a cloud computing service where the infrastructure, storage, and networking are offered on a pay-per-use basis.
Platform as a Service(PaaS): is a cloud computing service where the software and hardware needed are provided by a third party, and this allows developers to quickly build, test, scale and deploy applications.
Software as a Service(SaaS): is a distribution and licensing model where the applications, infrastructure, and platform are made available to users on a subscription basis.
5. Selecting the Cloud Partner
Finally, selecting the right cloud partner is a critical element in your cloud journey. Some key points to consider are certifications, experience, technological expertise, a service roadmap, contracts, support, and exit planning.
6. Migrating to Cloud
Every business has unique expectations from its cloud migration process. There are 6 common pathways to cloud migration, which have, over time, evolved into best practices and strategies. While these cloud migration solutions are not mutually exclusive, they can be used as a guideline to start the cloud migration discussion.
Rehosting: Rehosting involves 'lifting and shifting' of applications from the on-prem data center to the cloud with little to no modifications. Rehosting doesn't require code or architectural changes, as the entire workload is migrated as-is to the cloud system.
Refactoring: With refactoring methodology, the applications are modernized, updated, and optimized to explore the full benefits of the cloud. Refactoring involves code changes and re-architecting the applications to suit the cloud.
Replatforming: Replatforming is the middle ground between rehosting and refactoring. With replatforming, the database is modified, enhanced, and improved to take advantage of cloud-native functionalities.
Repurchasing: With a repurchasing migration strategy, enterprises move towards a software-as-a-service model. When legacy tools and solutions start to become obsolete, enterprises choose to substitute them with SaaS tools. The repurchase strategy is usually employed when using a proprietary product or platform.
Retaining: Organizations keep some portions of their applications. There will always be some applications that aren't yet ready to make the move, and they are also not fit to be retired. It is a realistic approach to retain some architecture in-house to implement a part-migration or hybrid strategy.
Retiring: is the antithesis of migrating. It involves identifying assets that do not make the cut for the cloud. Retiring applications makes it easier to focus on what is absolutely necessary in terms of productivity, performance, and processing.
The Importance of the Right Cloud Enablement Strategy
Cloud enablement is the first step in implementing an effective cloud solution. When you choose the right cloud enablement strategy, you can be certain of experiencing immense benefits:
Migration Success: The right cloud strategy will ensure you achieve your business goals and meet the challenges of your business.
Cost Effectiveness: The right strategy will help reduce upfront costs and eliminate cost-heavy investments in infrastructure. With multiple pay-per-use models available, you need to pay only for the services you use and get the most out of your cloud strategy budget.
Data Accessibility: With cloud platforms, you can access your business data from any device and any location.
Data Safety: Data safety is one of the primary concerns of businesses, and cloud solutions help mitigate these challenges. When you store your data in physical on-premises systems, you are subjecting the information to the safety standards of the location. Cloud platforms offer automatic backup options, eliminating the risk of data loss.
Scalability: The right cloud solution should expand and contract based on your business needs, demands, workloads, and market cycles.
Innovation and Development: The ideal cloud solution supports innovation and development by providing powerful insights that aid in the faster deployment of new products or services into the market.
Implementing the Right Strategy Brings Innumerable Benefits
Cloud computing is becoming an increasingly critical element in the digitalization of businesses. Cloud migration is a complex but important part of your IT environment. As you begin your cloud migration journey, you'll want to have experts and experienced cloud enablement partners working with you.
Partnering with a reliable cloud provider will help you stay on course for a successful and growth-focused cloud engineering services. At Kemsys, we help organizations of all sizes and requirements embark on a cloud journey with minimum investment, reduced disruptions, enhanced ROI, and performance.