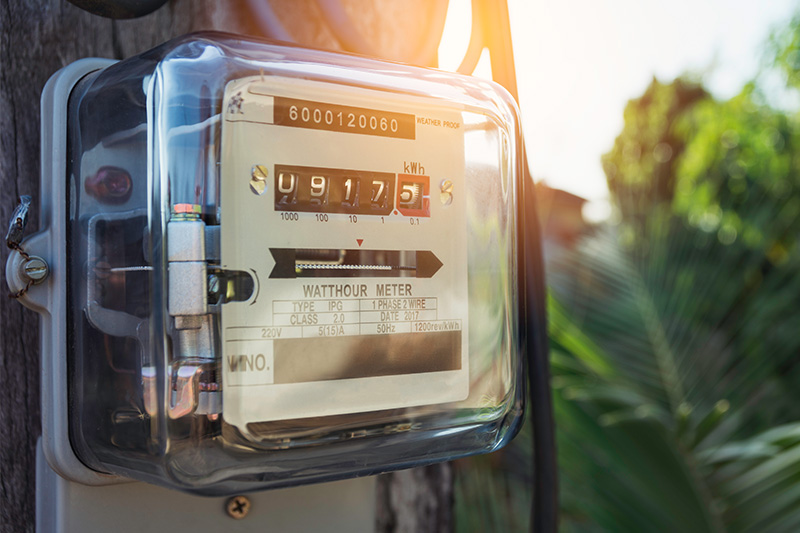 IoT Utility Meters
loT-based Smart Energy Meters
Since energy consumption is becoming more prevalent in residential, commercial, and industrial installations, research on this topic has become significant in recent years. In particular, the rising energy prices are promoting higher levels of energy efficiency, which requires an accurate quantification and management of energy consumption. The energy management requirements at both service supplier and consumer sides promoted the evolution of smart grids, with the aim of reducing the generation and operation costs in power systems and hydrocarbon emissions. Smart metering is an essential element-and usually the first milestone in smart grid implementations.
Smart metering benefits utilities by improving customer satisfaction with faster interaction, while giving consumers more control of their energy usage to save money and reduce carbon emissions. With power visibility all the way to the meter, utilities can optimize energy distribution and even take action to shift demand loads.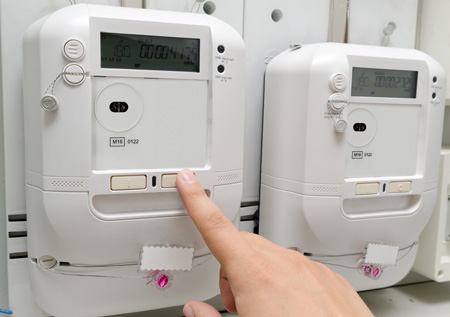 Today's smart energy meters with remote sensing capabilities are equipped with the following features:
LCDs for Displaying the live and stored data
Digital Signal Processor for faster calculation
Memory for data storage
Communication: 2G GPRS, 3G, 4G LTE, Zigbeee, LoRAWAN, NB-IoT etc..
Microcontroller for processing and communication
RTC (Real-Time Clock)
Tamper detection: Magnetic, High voltage, Earth failure, etc.
Kemsys has more than a decade of experience helping utilities and OEMs build and deploy smart metering solutions worldwide. We offer industry-leading loT connectivity solutions based on GPRS / 2G / 3G / 4G / LoRa / NB-IoT technologies, including industrial-grade embedded modules with long life spans, cloud platforms, expert application development assistance, and more.
Both Single-phase & three-phase smart energy meters are designed in-house, and manufactured in big numbers by parent organizations (Kaynes Technologies), and deployed across India. These energy meters are designed to meet all Indian standards, especially EESL specifications. These meters are primarily designed around Renesas/TI microcontroller, and integrated with GPRS / 2G / 3G / 4G connectivity technologies. The good thing is, these loT meters are designed to be future-proof — can easily accommodate NB-loT connectivity technology, once NB-loT technology is widely available. The Single-phase energy meter block diagram is shown below.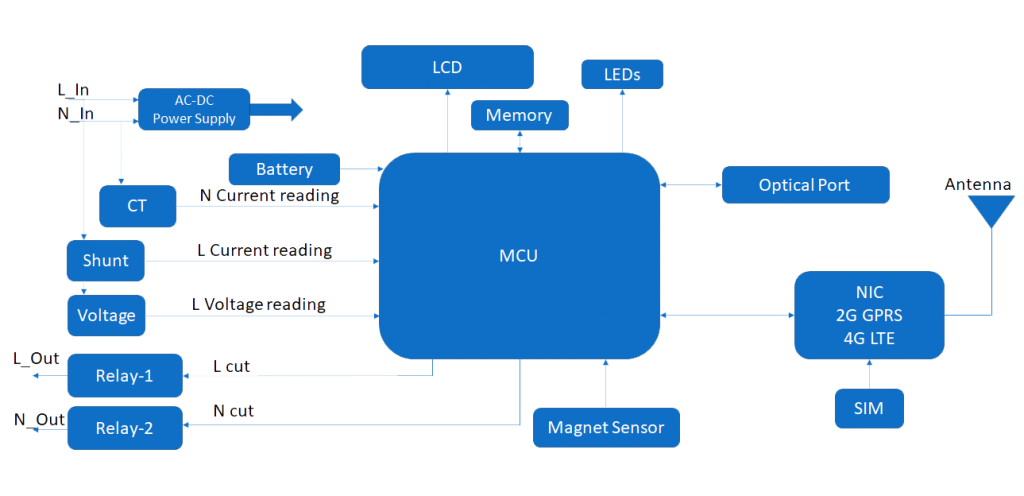 Single Phase 2 wire static watthour meter
Voltage: 240V, -40% to +30%
Rated current: 60A current
Frequency: 50Hz, +/-5%
Accuracy class: class 1 for kWh, kVArh, kVAh
IP 55
Measurement: Energy: kWh, kVArh, kVAh, Demand: kW, kVA
First breath and last gasp
Pulse output
Highly reliable Relays
Wide temperature range
Compact
Low power consumption
Support for Head End System integration
Pluggable communication module
Certification as per IS 16444-1 & IS 15959-2
Kemsys had decades of loT device design experience. With the right partners, Kemsys & Kaynes together determined to create the right & scalable smart meter ecosystem.
The key eco-system elements are,
Meter:

Responsible for Measure and Communication

Data Concentrator Unit (DCU)

Responsible for Network, Security & Authentication, Data delivery, event management

Head End System (HES):

Responsible for network management, security, commissioning and maintained, Application Program Interface to next system

Meter Data Acquisition System (MDAS):

Responsible for Collection of data from HES and store

Meter Data Management System (MDMS)

Responsible for Data Analytics