October 31, 2022
Posted by:

Manoj Pandey

Category:

Cloud Engineering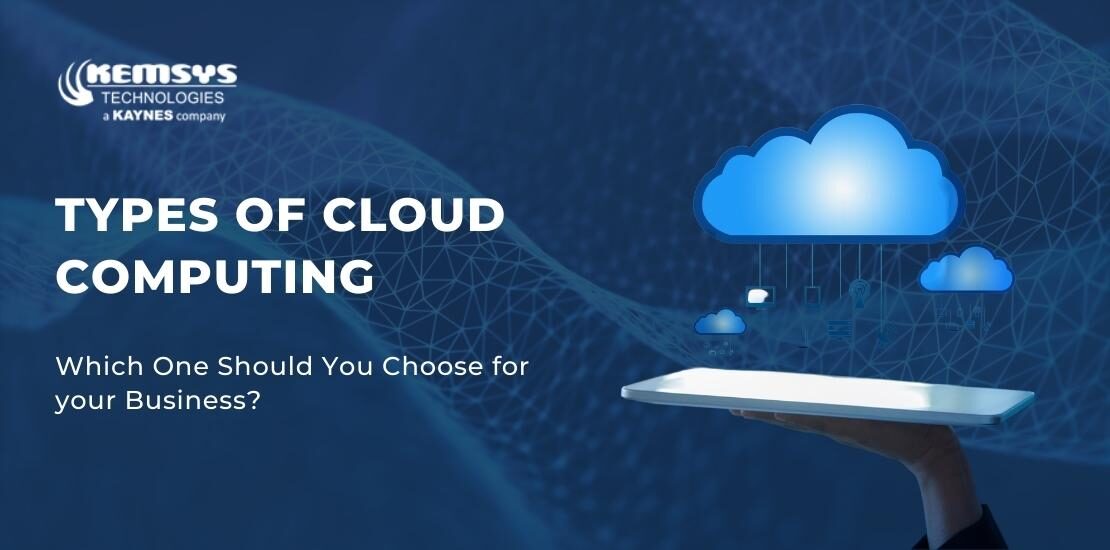 According to Statista, in 2021, cloud computing generated close to $400 billion in revenue, and this phenomenal growth doesn't seem to slow down any time soon.
With more and more organizations adopting the cloud, the challenge is to decide the right cloud environment that satisfies their business needs.
In this blog, we give you a complete breakdown of the various types of cloud computing and help determine the right type of cloud for your particular use.
What is Cloud Computing?
Cloud computing is how computing services are delivered, such as databases, servers, software, analytics, and networking over the cloud.
When looked at from a technical viewpoint, cloud computing brings together applications, networks, and deployments to develop efficient business solutions.
On the strategic level, cloud computing helps businesses leverage automation and standardization to develop innovative, cost-effective, and responsive digital services for stakeholders.
There are several types of clouds available, and each cloud is unique, provides different capabilities, and helps serve different purposes. Understanding each cloud type can help you make the right business decision.
Types of Cloud Computing Deployments
There are three basic deployment-based types of cloud computing. They are public, private, and hybrid clouds.
Public Clouds:
Public clouds are readily-available resources such as a CPU, storage unit, memory, and networking that are delivered over the internet network for public use. Some examples of public clouds include Microsoft Azure, Amazon Web Services (AWS), Google Cloud, Alibaba Cloud, and IBM Cloud.
In a public cloud setup, the computing resources are hosted on the cloud computing vendor's fully managed global data centers, allowing businesses to rent the required resources to build their infrastructure.
A public cloud is the most economical and feasible option for businesses that do not have plans to invest in their infrastructure and procure security systems, database servers, and applications. Instead of setting up the entire ecosystem, businesses can rent the managed services as required.
Features And Benefits Of Public Clouds:
The service is available as free to use or pay-per-use and is usually shared by the network of users.
The hardware and applications are hosted and managed by the vendors, leaving the customers with absolutely no responsibility to maintain, buy or upgrade the components.
Rather than owning the resources, the customers can deploy their cloud engineering solutions while paying only for the resources they use – making this a highly economical solution.
The public cloud is a flexible and scalable option that can accommodate the highs and lows of usage.
Customers can enjoy a standardized level of security, power supplies, storage options, and maintenance systems.
Private Clouds
As the name suggests, a private cloud is a fully owned cloud environment used by a single business or organization. Cloud computing resources are usually physically installed at the customer's location, running behind their firewall.
Some customers prefer to have a third-party host their private cloud. When this happens, it mimics the same remote-managed functionalities of a public cloud.
However, these remote-managed data centers are usually used for providing administrative services, and not for the complete range of public cloud services.
Features And Benefits Of Private Clouds:
The private cloud is a fully owned infrastructure used solely by a business.
Private clouds can be hosted on-premises or as an off-shore data center.
Control and security are the highest differentiating factors of a private cloud.
Private clouds have a higher demand for security, management, and uptime.
It is possible to tailor your approach to cloud computing based on your needs and internal processes.
Hybrid Clouds
A hybrid cloud has the characteristics and elements of a private and public cloud. The elements of these two cloud systems are connected through an internet connection using LAN, WAN, VPN, or APIs. In a hybrid cloud system, sharing of data, applications, and resources between the two environments is possible.
Hybrid clouds are complex systems that incorporate a variety of elements within their system. For example, when you use a hybrid cloud, you can enjoy the limitless storage capacity of public clouds while keeping the data processing and analytics essentially an in-premises process.
Features And Benefits Of Hybrid Clouds:
Cloud computing resources can be managed either internally or by external vendors.
When security, control, scalability, and flexibility are the most essential elements you are looking for in a cloud system, hybrid clouds can satisfy your needs perfectly.
You can use the public cloud to interact with customers while keeping the records, and data processing in-house.
Additional Cloud Deployment Approaches
Multi-clouds
A multi-cloud approach has more than one cloud service from more than a single cloud vendor – public or private. Although all hybrid clouds are multi-clouds, not all multi-clouds are hybrid clouds.
The multi-cloud model combines two or more public or private clouds or a combination of both to integrate applications and services.
Managed Private Clouds
Managed private cloud approach serves a single organization in which the private cloud is configured, deployed, and infrastructure managed by third-party vendors. When your organization is understaffed or underskilled, then managed private cloud becomes a flexible and feasible option.
Dedicated Clouds
A dedicated cloud approach is having a dedicated cloud within a cloud – public or private. For example, your organization's human resources team can have a dedicated cloud within your business's larger private cloud.
All About Choosing The Right Cloud For Your Business
Choosing the right cloud type for your business depends on several factors, such as certifications, partnerships, service level agreements, performance, reliability, infrastructure, and governance.
Evaluate the advantages of each type of cloud from an operational and strategic point of view. And, ask yourself some hard questions before making the decision.
Which Cloud Should I Use?
The right type of cloud for your business depends on what you are doing and what you are trying to achieve.
A public cloud is well suited to handle high-volume and fluctuating demands.
When businesses are looking to minimize their IT infrastructure costs, and eliminate large upfront investment and maintenance hassles, then a public cloud is the right choice.
When you have predictable computing needs and workloads, you can choose a private cloud.
When protecting critical customer information and adherence to standard operations is of paramount importance, a private cloud is a right decision.
Hybrid clouds can serve both needs as they can be hosted both internally and externally.
Which Cloud Is More Secure?
This is a question that doesn't have a straightforward answer.
Owing to the multi-tenancy and multi-access capability, public clouds are inherently subject to security threats. To counter this, public cloud vendors often shoulder the responsibility of providing infrastructural security while requiring the customer to handle workload security.
On the other hand, private clouds are not as susceptible to security attacks as public clouds are owing to their private ownership. The workloads on a private cloud are run behind the firm's security firewall. However, the strength of your system depends on your security system.
Hybrid clouds have the best of both environments. Based on the customer requirement, it is possible to move workloads to the public or private cloud based on security requirements, audit, compliance, and more.
Which Cloud Deployment Costs More?
In a public cloud, you pay only for the services and resources you use making it the most economical option out there. The business setting up the private cloud is usually responsible for buying or renting hardware, software, and applications needed to scale up. Since the hybrid system includes both on-premises and off-premises custom approaches, you can design it as per your requirements.
Importance of Cloud Computing Services
Cloud service models should also help you make the right cloud computing service decision. Cloud computing services are platforms, software, and/or infrastructure made available through the internet and hosted by third-party providers.
Each service approach facilitates the easy flow of data from the front end to the cloud service provider's system through the internet. However, they differ in the services they provide.
IaaS or Infrastructure as a Service is the initial step for businesses starting on a cloud journey. With Iaas, businesses can rent the physical, IT, and networking infrastructure and deploy and manage VMs. IaaS is typically provided as a pay-as-you-use model where the user manages the applications, OS, and middleware while the vendor manages the hardware, servers, storage, networks, and hard drives.
PaaS or Platform as a Service means the software and hardware are handled by the outside cloud provider, while the applications and the data are handled by the user. With PaaS, programmers and developers get the opportunity to develop new applications on the shared platform without requiring to specifically build and maintain the necessary infrastructure.
SaaS or Software as a Service delivers access to them as ready-to-use software instead of having to build, patch, deploy or update the applications on the device. Instead of having each member of the team have the application individually installed on their computers, SaaS allows each member greater access to the software.
To leverage the greater capabilities of the cloud, you need a partner who knows the nook and cranny of cloud computing. You need someone with experience in using advanced technologies, delivering customized solutions, and building or modernizing customers' existing infrastructure to a cloud-enabled solution. The ideal cloud partner for every business is Kemsys.
Kemsys has an unmatched proven track record of providing optimized, scalable, and tailored cloud services to clients. Our team of experienced engineers and subject experts has the expertise to develop cloud-native applications, revamp legacy applications, and provide end-to-end cloud solutions.