Cooling Tower Monitoring Solution
Cooling Tower Monitoring Solution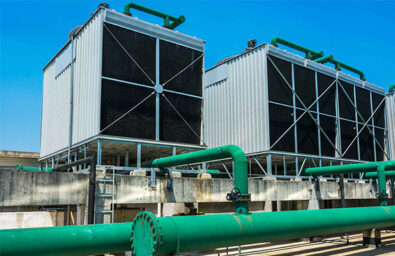 The energy efficiency of cooling towers is one of the most critical factors of its success. We are happy to assist our client, an established cooling tower OEM with a complete remote monitoring solution in addition to achieving industry compliance and regulation.
The project was aimed at establishing custom cooling tower monitoring solutions via identifying key indicators, designing and deploying a central monitoring dashboard, and assisting in adhering to industry regulations and compliances.
Maximize efficiency

 

Proactive maintenance

 

Compliance management

Maximize uptime
OEM had the challenge of establishing a comprehensive cooling tower monitoring solution which end-user can utilize to optimize the energy efficiency of the cooling tower and also adhering to the required codes and compliances of the machinery.
The customer is an OEM of cooling towers in Asia-Pacific that offers their industrial machines to various industrial and building automation clientele. 
Kemsys delivered an end-to-end real-time cooling tower monitoring system i.e smart sensing solutions, data acquisition through BLE, and data transmission to the cloud using industrial-grade gateways (KPTR) using 4G connectivity.
The acquired data is collected on Kemsys's IoT platform KemPaas, providing smart features such as live data visualization with live alerts in a centralized dashboard. It also enables end-users to take corrective measures to minimize downtime.
The offered solution enabled OEMs to achieve the required government-mandated environment safety such as HACCP (Hazard Analysis Critical Control Point).
Differential pressure

Liquid pressure

Temperature
Vibration/HFFT

Downtime

Fault Detection

Maintenance Requirements

 – MTBF & MTTR

 
Helped achieve optimum cooling tower efficiency with live remote monitoring
Helped achieve the desired regulatory and environmental safety compliance for cooling towers.