Delivering Smart Solutions For Future
World-Class IoT Hardware, Software & Smart Product Development
Delivering Smart Solutions For Future
World-Class IoT Hardware, Software & Smart Product Development
Elite Organizations Trust Us With Their Products
20+ Years of Experience Building Connected Solutions
Technological DNA
Driven by the legacy of technical competency and unmatched zeal for excellence, we thrive for continuous technological advancement.
Concept to Completion
Our world-class end-to-end IoT development infrastructure facilitates swift, seamless & economical execution of complex projects.
Fortune 500 to Startups
Our world-class end-to-end IoT development infrastructure facilitates swift, seamless & economical execution of complex projects.
1500+ Engineering Team Members
20+ In-House IPs & Accelerators
8 Manufacturing Facilities
End-to-End IoT and Product Engineering Services
Product engineering services and solutions to build next-gen connected products with IoT being the centerpiece
Device Engineering
We offer end-to-end smart solutions, from conceptualization and design to manufacturing and deployment, to deliver innovative IoT hardware and software products. Our expertise in hardware design, embedded design, and mechanical design ensures world-class smart product development.
Quality Engineering
We provide quality assurance services that cover the entire connected product lifecycle, delivering top-notch QA consulting services, IoT QA implementation services, digital QA implementation, and end-of-life quality assurance support. Our commitment to quality ensures that our smart solutions are world-class.
Proto & Bulk Manufacturing
With over 35 years of experience in electronic manufacturing services, we offer unmatched expertise in embedded design, adding value to our clients' smart product development. We deliver world-class IoT hardware and software products that align with our commitment to delivering smart solutions for the future.
Our Focused Co-innovation Solution Expertise
Connected Industrial Assets
The connected industrial equipment improves efficiency, reduces downtime, and increases productivity across industries be it manufacturing, transportation, or another industrial sector. Our connected device's development expertise along with advanced sensors and communication capabilities allows for remote monitoring and control, as well as the collection of data for analysis and optimization.
EV Charging and Smart Automotive
We help businesses to transition to sustainable transportation solutions. We offer a range of solutions, from basic Level 1 and Level 2 stations to fast-charging DC systems. We can help you assess your needs, select the right equipment, and develop a comprehensive plan for the deployment of EV charging infrastructure.
Smart Consumer Electronics
Build smart electronics products with the ultimate focus on end-user experience. Our sensor-to-cloud capabilities help you build products that connect to the Internet and interact with other devices. Whether you are looking for a smart thermostat, a connected security system to keep your property safe, or a smart appliance to make your daily tasks more efficient, we have a solution for you.
Whether you are looking for an industrial robot to automate a manufacturing process, or a consumer robot to assist with tasks around the home, we have the skills and resources to bring your vision to life. Our robots are designed to be reliable, efficient, and user-friendly, and are equipped with advanced sensors and control systems to ensure smooth operation.
Why Choose Kemsys as Your Engineering Partner?
We transform your vision into reality with our end-to-end engineering expertise
Innovation
Developed IP and Platform Solutions that are industry-proven to accelerate your product engineering needs.
Scalability
Ability to scale and manage growth both during sustained peak and on-demand surge
Execution Excellence
Process, Checklists, Templates for each stage of the product development to ensure quality
Canvas to Cloud
One-stop shop to fully incubate your vision right from canvas to cloud journey
Legacy of Microprocessor Platform Expertise
Kemsys along with group company Kaynes has over 30 years of relationship with key semiconductor technology providers globally. Our strong relationship and co-innovation strategy have allowed us to continuously invest ahead of time in core platform technologies. Having access to our partner's product roadmap benefits our end users with accelerated product design and development support.
Spectrum of IoT Connectivity Experience
The primary building block of the Internet of Things (IoT) is connectivity, but as the IoT technology spectrum is full of variety and different application needs, it's difficult to find a one-size-fits-all communication solution. At Kemsys we have vast experience aided by our in-house connectivity IPs to support our clients through informed wireless technology selection to designing and developing a best-optimized solution for their end IoT use cases.
Broad Sector-wise Experience
Kemsys offer multi-year experience in key domains where IoT and Digital Transformation adoption are accelerating. We pride ourselves on creating comprehensive and industry-compliant solutions across these domains using our innovative and proven product engineering practice. We commit to accelerating your concept to the commercialization journey with reduced implementation risk and time-to-market.
KpiX
A Platform Built for Accelerating Connected Device Development and Maintenance Ops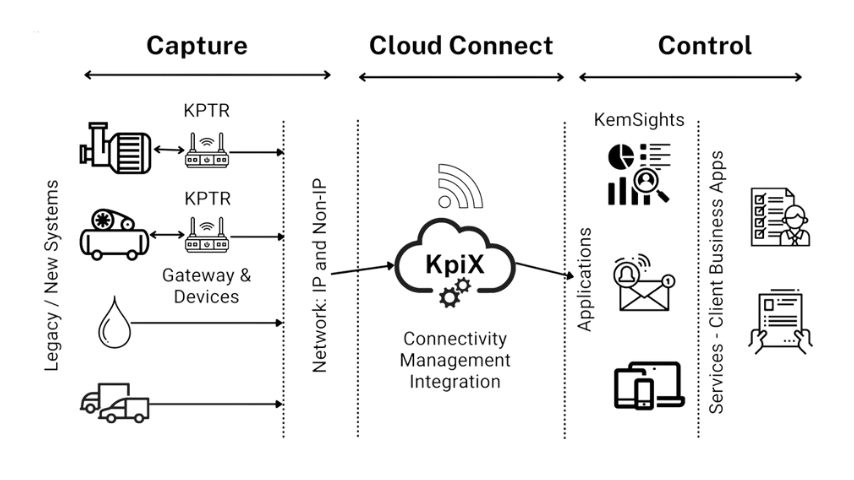 KpiX is designed to help companies accelerate the development and deployment of their cloud-based connected platforms and applications. A platform developed with a range of resources and support to help you quickly and effectively build, test, and launch your cloud platforms.
Get access to specialized expertise and support for the development of cloud-native applications, and guidance on best practices for cloud platform development.
KpiX is right-fit for you if you are looking to take advantage of the scalability, flexibility, and cost-effectiveness of the cloud. It can help you bring your products and services to market faster.
How We Add Value to Your Business
Kemsys Technologies can add value to your products by providing expertise in the design and development of hardware and software components, as well as integrating different systems and technologies.
IoT Data Analytics
Defining the scope of smart solutions is a complex process, so are the succeeding phases including prototyping, designing, certifying, configuring, and deploying your IoT application. Kemsys provides end-to-end IoT services to support the entire lifecycle of product ideation, development, deployment, and management of smart IoT solutions.
Remote Device Management
For any IoT device deployment of more than a few devices, the managing teams need a remote management system to support configuration, monitoring, security, firmware updates, troubleshooting, and out-of-band management. We help you build the right infrastructure for configuring and managing your devices.
Smart Devices
The demand for IoT products is increasing rapidly, involving everything from wireless IoT solutions such as embedded system-on-modules and RF modules to cellular routers and IoT gateways. We provide industry-proven, reliable IoT devices supporting various industries such as industrial, energy & utility, medical, food & beverages and more.
Smart Solutions Developed by Us
We are proud to have delivered transformative business values to our clients with varied solutions in varied segments
Let's Turn Your Idea Into The Disruptive Product
Would you like to know more how Kemsys can help you with your next IoT project? Send us an email and we'll get in touch shortly, or phone between 8:00 and 18:00 Monday to Friday — we would be delighted to speak.
India: +91 86003 38049
USA: +1 (210) 446 9171
communication@kemsys.com