Remote Monitoring of Compressors – Challenges and Opportunities
May 6, 2021
Posted by:

Sanket Pathak

Categories:

Cloud Engineering, Device Engineering, Internet of Things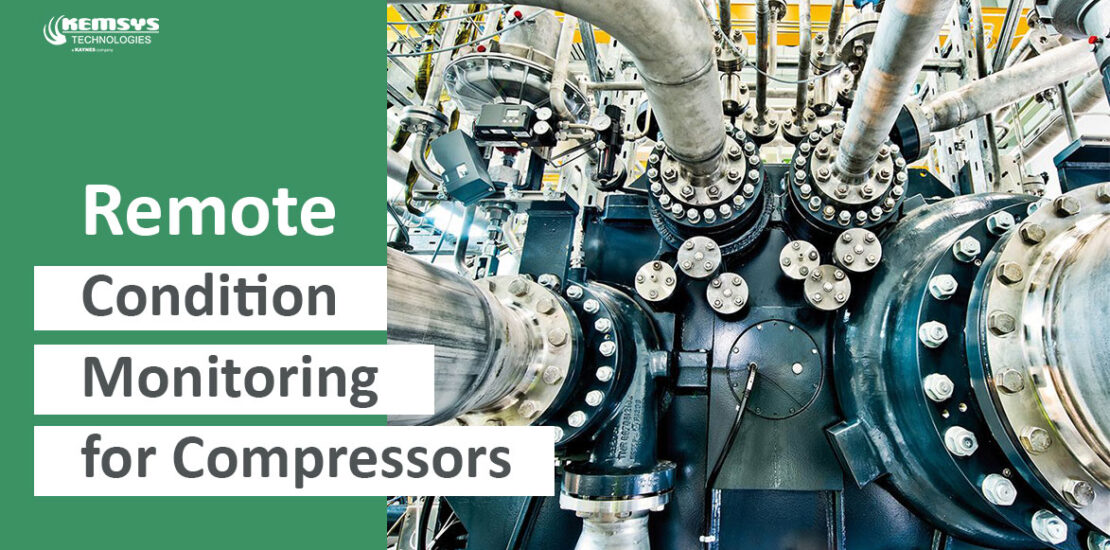 Compressor Monitoring – Need for Preventive Maintenance
Compressors are "beasts", the workhorse of refineries, chemical plants, and oil production facilities, built to do tough, dirty work. They are designed to last for decades as long as they receive periodic maintenance, but if a problem develops quickly, the chance to avoid a failure can be bleak. When reciprocating compressors go down, it can bring down the entire line, or cause fires and cause physical damage through dismantled parts. To avoid this kind of catastrophe, it becomes essential to keep a monitoring program in place that can give warnings before such failures can occur.
It costs approximately 50% more to repair a failed asset than if the problem had been addressed prior to failure.
Challenges Faced in Monitoring Compressors
Despite the criticality and importance of reciprocating compressors, they are sometimes unobserved by condition monitoring specialists. For instance, a portable vibration analyzer, which is routinely used on rotating equipment, is not well suited for reciprocating machines and has been unsuccessfully monitoring reciprocating compressors for years.
As a result, overall machine health is frequently not captured and not diagnosed correctly until damage occurs. Then, it may be too late to save the machine from failure.
Moreover, Impact caused by mechanical looseness produces very short duration waves and high amplitude spikes, which needs continuous monitoring (online systems) on crossheads for early detection.
Common valve problems such as sticky valves (delayed opening impact) and lost valve springs (earlier opening impacts) demand a crank-angle tracking system for fault detection.
Also, wear in compressor piston rings and rider bands, gas condensation, and other operational malfunctions can be difficult to detect by traditional analyzers, calling for special continuous monitoring using internal sensors.
Condition Monitoring for Compressors
Although trending vibration measurements is an excellent tool for monitoring the health of rotating machinery, it generally is not effective for monitoring reciprocating compressors. For instance, general faults present themselves as impacts with minor effects on the overall vibration level.
As a result, sometimes, it is too late when abnormalities are diagnosed damage has occurred hindering any possible simple corrective measures. Several reciprocating machinery faults do not significantly increase a machine's overall vibration level until damage has reached a severe level.
The main objective of installing an online monitoring system is to ensure the safety of personnel, assets, and the environment. It also provides important insights that operators and engineers can utilize to assess the equipment's condition, determine machine availability and make informed decisions. This advanced analytics proves to be critical in maximizing operating efficiency and machine health.
An important benefit of continuous online condition monitoring is the ability to trend measurements and predict operating conditions. While the current absolute reading is informative to a trained analyst with experience on a particular machine, a trend tells an easy-to-understand story of the changes in the machine over time.
An ideal compressor monitoring system should include the following monitoring parameters:
Suction and discharge valve temperature
Impact on each compressor cylinder
Casing vibration (velocity)
Rod drop on each compressor rod
Driver vibration (may vary with driver type)
Motor winding temperature (if applicable)
Gas-fired engine monitoring systems should also include:
Turbocharger vibration
Main bearing vibration
Water pump vibration
Cooling fan vibration
Reasons to Choose Remote Monitoring of Compressors
Usually, a person does the monitoring of compressor parameters on site. But during the current unprecedented time where most of the industries are working with a limited workforce by following social distancing at the plant, the monitoring of such types of machinery becomes very challenging.
As the majority of us are now working from home with the help of digital tools and techniques, it is also imperative for the utilities that they can be controlled or monitored from remote locations.
The objective of such smart remote monitoring is to identify and solve performance or efficiency issues before they evolve into a full-scale equipment failure. In addition to supporting preventative maintenance, this will help plant managers to optimize productivity and keep running costs in check.
Kemsys facilitates remote monitoring of compressors by capturing live data from the compressor equipment and transforms it into crucial insights so that the maintenance team can check machine health remotely at any time and anywhere. Moreover, accessibility of the system is given to customer users to get the notifications, warning & shutdown for installed machines & can also check the data by logging into a web portal. Our compressors installed at essential industries are now monitored very closely to avoid any abrupt breakdown/shutdown in the plant.
Key advantages of remote condition monitoring of Compressors include,
Truly connects your device online
Data collection and trend analysis
Fault pre-alarming
Operation and Maintenance Scheduling
Online remote monitoring- from anywhere, anytime
Easy access o through mobile/web applications
Resources: U.S. National Response Center