IoT Gateways – The Soul of IoT Ecosystem
May 5, 2021
Posted by:

Swapnil Ghaisas

Category:

Internet of Things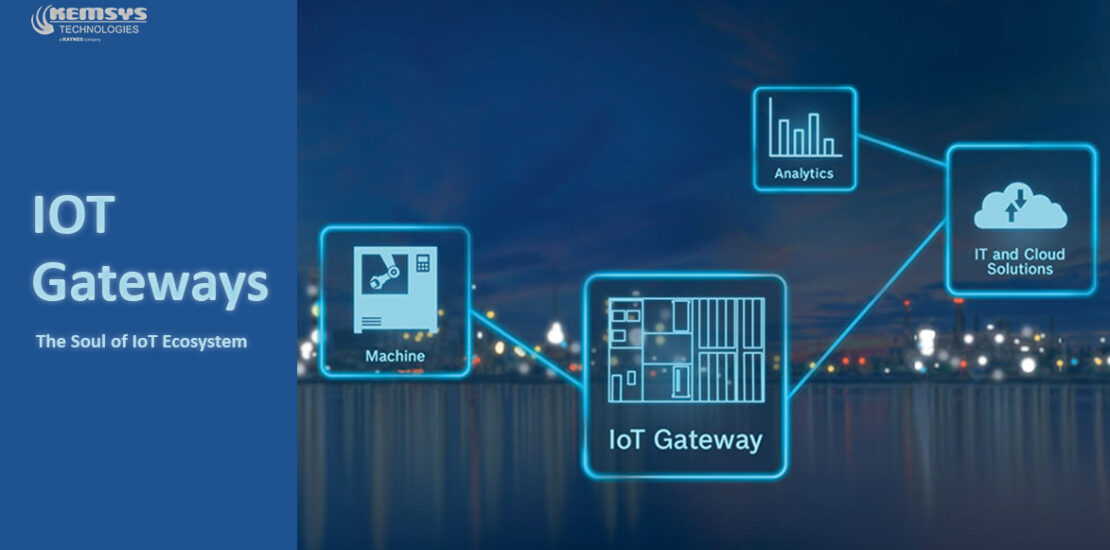 There is no denying IoT's endless possibilities for optimizing business processes, improving health and safety, saving time and money, and improving life. However, launching new solutions to market and integrating them into complex IoT ecosystems is a challenge of its own.
Let us explore how IoT gateways play a crucial role to make it happen.
IoT Footprint of a Modern Manufacturing Operations
AI-empowered machines on manufacturing lines integrate real-time data from connected sensors that continuously Remotely Monitor Assets and provide performance insights.
Delivery transportation vehicles managed by IoT-enabled telematics solutions and fleet management platforms communicate with dispatch to optimize product transportation and distribution.
A smart logistics platform facilitates the monitoring of product demand and manages shipments to the retail channel or various warehouses for storage.
Thousands of SKUs of products, each with its own IoT tracking and tracing device, are stored in warehouses where supervisors manage stock and optimize operations with sophisticated cloud platforms that integrate data from smart forklifts and pallets across the warehouse environment.
Did you notice?
Each and every connected endpoint in this entire ecosystem is communicating, processing, and integrating data from different places – sensors, devices, machines, vehicles, and cloud applications.
And for that, they employ various communication protocols and networks, such as cellular, Wi-Fi, Ethernet, Bluetooth, LoRA, ZigBee, and more.
It doesn't end there, they also communicate with various public and private IoT clouds, and those clouds require to communicate data back to critical systems and varying sensors and devices.
Yes, you are right. Collaborating all these pieces and platforms together and integrating insightful data into a larger enterprise ecosystem is a mammoth challenge, often preventing IoT projects from making a profitable impact.
The good news is, IoT gateways are coming to the rescue!
What are IoT Gateways?
In simple terms, an IoT gateway is a physical device or virtual platform that connects sensors, IoT modules, and smart devices to the cloud.
Gateways serve as a wireless access portal to give IoT devices access to the internet.
It might sound like a simple router, enabling communication between different protocols and devices. But, IoT Gateways are sophisticated technology that offers much more, for instance, edge-computing.
How do IoT Gateways work?
An IoT Gateway collects a massive amount of data from many connected devices and sensors in any given IoT ecosystem. The gateway pre-processes the data prior to passing it along to cloud platforms, where the heavy data crunching happens which transforms a large data into meaningful intelligence.
IoT gateways also receive information from the cloud, communicate back to devices to allow autonomous management of devices in the field.
In brief, all the information moving through an IoT ecosystem – from an IoT device to the cloud, or reverse – goes through a connected IoT gateway.
Considering that one tiny sensor can generate millions of data points per second, you can understand why pre-processing at the edge might be crucially important.
By pre-processing data – aggregating, summarizing, and synchronizing traffic from different devices and communication protocols – the volume of data that needs to be forwarded to the cloud is significantly minimized.
Benefits of pre-processing data at the edge
Comparatively, less amount of data needs to be transferred to the cloud
Resulting in reduced response time and network transmission costs
Saving and power and battery life due to less data transfer
Gateways are often deployed where they can be hardwired for power and ethernet. Some models offer Power over Ethernet (PoE) where power infrastructure isn't available.
KDAS – Kemsys Industrial IoT Gateways
The Kemsys Internet of Things (IoT) Gateway is essential for connecting sensors, devices, and other systems to the internet. With updates Over-the-Air (OTA), you can improve your system functionality by updating the software on your devices and sensor firmware. Our Kemsys IoT Gateway enhances the future scope of your product with features such as Predictive Maintenance, performance tuning, and condition monitoring, geofencing, remote monitoring, and much more. Our IoT platform is based on an automotive standard operating system that is compatible with most development strategies. Our team of engineers is well versed with the prevalent industrial communication protocols such as HART, FF, PROFIBUS, PROFINET, Modbus, EtherNet/IP, etc. in the Field and Control layer.
Advantages of the Kemsys IoT Gateways
Optimized Operations:

Reduce asset downtime using highly secure, reliable connectivity and lower operational costs with easy-to-use remote management.
Ruggedized Design: Built to withstand harsh environments and ready to deploy at scale.

Reduced risk:

No compromise industry-leading security built-in at all levels, from physical security all the way to application-level security.

Open Standards and Custom Applications:

Our open software architecture gives you independence and peace of mind for the future. Kemsys' software solutions can be flexibly adjusted to your individual requirements and extended at any time.

Connecting Machines:

We help you network your machines and systems in a safe way with our IoT engineering capabilities, helping you achieve Industry 4.0.

Quicker Time-to-Market with Kemsys Accelerators:

Our IoT solution also comes with a robust library of software functions that enables rapid implementation.