IoT for Innovating Business Model – Equipment as a Service
September 13, 2021
Posted by:

Sanket Pathak

Category:

Internet of Things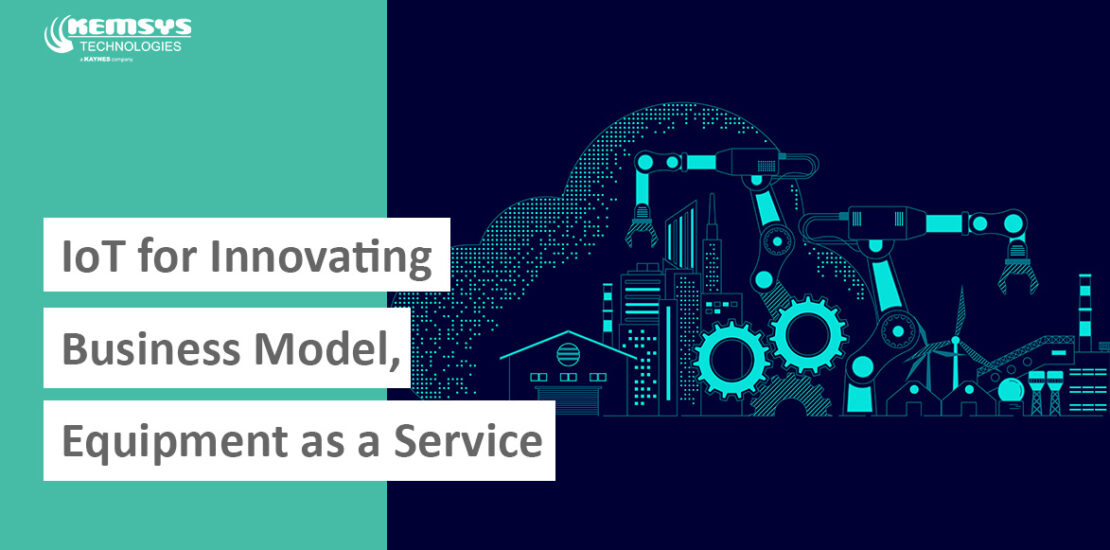 The impact of recent economic distress has pressured countless equipment manufacturers to transform the way they conduct their businesses. Though several new business models have emerged and are becoming prominent, it is still challenging for the industries to secure their financing and transform their operations digitally.
Amidst this despair situation, the Equipment as a service (EaaS) model has significantly brought hope for the OEMs and machine builders to get assured growth when customers eagerly want to reduce capital expenditure. IoT for business model such as Equipment as a service eases the process of connecting all kinds of equipment and devices digitally and conduct smooth operations for the industries.
Market Trends for Equipment as a Service
As per the IoT Analytics Equipment as a Service Market Report, the market for EaaS reached $21.6B in 2019. That projects that the worldwide equipment market is substantially growing, and the adoption of new EaaS business models is accelerating. This boost for the new equipment as a service model might beget future growth as more and more companies that still haven't adopted the EaaS model remain competitive. Hence, OEMs must swiftly think about adopting this model before their competition starts availing of its benefits.
Rising Need for Equipment as a Service Model
Various industrial manufacturers are now shifting to an Equipment as a Service model for building more resilient revenue models and creating powerful hardware and software service bundles. Amongst the surging competition, manufacturers are exploring new strategies to stay relevant in the market. 
The service-based business models are trending because they ensure recurring revenue and the ability to understand the customer needs to a greater extent. The EaaS model is more suitable for today's customers as it caters to the needs of consumers and ensures greater flexibility, better service, and guaranteed availability of the assets.
Why Equipment as a Service has Assured Market Growth Potential?
Studying the growing need and market trends for EaaS, here are a few reasons why the EaaS model will be extremely beneficial in the coming future:
Low Setup Costs
EaaS business models are dependent on accurate measurements of equipment usage and its performance. The costs paid to the EaaS vendors are given by analyzing such metrics. By utilizing IoT-enabled solutions to measure and collect equipment usage, the costs associated with measuring equipment usage and performance gets significantly reduced. 
Incorporating with the right IoT technology and its vendors, new EaaS models can be built and deployed extremely faster, unlike traditional ways of development, which took an extended amount of time. Thus, the IoT for business model has made it economically viable to connect the unconnected and offer equipment as a service.
Better Financing Tools
While industries transition to the EaaS model, managing the cash flow can be a great challenge for the companies as traditional banks, usually lack the products and services to successfully make the transition. However, in recent years, many financiers specializing in EaaS business models have emerged. 
Even the governments, in many cases, are assisting with finance issues for EaaS projects that focus on reducing energy consumption. Siemens Financial Services is one of the big names that support customers with EaaS projects.
Increased Revenue Opportunity With Superior Business Outcomes
The Industrial Internet of Things is the fundamental engine behind the EaaS model, which ensures equipment uptime and reliability. By amalgamating software, hardware, and services into one solution, companies can benefit big time from reliable data and insights. 
Also, The EaaS business model addresses the evolving customer expectations by delivering improved maintenance. By leveraging Industrial IoT for business model, industries can increase their revenues and achieve better business outcomes.
Competition from 3rd Party Service Providers
Over the years, 3rd party service providers have found great success in reselling pre-existing products as a service. Once sold, the party creates a good customer base for itself and then launches its own products for greater benefits. In the machine and OEM industry, 3rd parties are using these traditional methods to offer equipment as a service and find success.
How IoT Enables Equipment as a Service Model to Get Better Outcomes?
In these modern times, the need to create value beyond products is extensive. Industrial customers are searching for complete solutions rather than relying on individual products. Internet of Things offers great value-added services such as predictive maintenance and repairs that help eliminate repair costs and eventually provide improved customer satisfaction. 
By transitioning from selling products to selling performance with the help of IoT based EaaS model, industries are not only building digital capabilities but are also becoming an integral part of the customer processes. These methods are highly useful to provide superior services and simultaneously attract a larger customer base. 
Example of an IoT Based Industrial Asset
The use of generators for today's power-driven equipment is extensive. OEMs are working towards designing and building generators that are quieter, cleaner, and energy-efficient. The fundamental work of a generator is to supply voltage and power to the machines installed in a specific area. 
When we enable IoT in its operation, the generator starts managing the amount of supply needed by the equipment. Moreover, it keeps an account of its own maintenance needs and notifies the owner if any change is required. This results in the high performance of the generator and overall less energy gets consumed with lowered noise operations. 
Process Cycle
Equipment (as a Service Possibility) → IoT Enablement (Performance Monitoring, Predictive Maintenance, Remote Management) → Services (High Performance, More Machine Uptime) → Outcomes (Reduced Capital Expenditure, Accurately Planned Maintenance, Increased Revenue, Higher Data Reliability)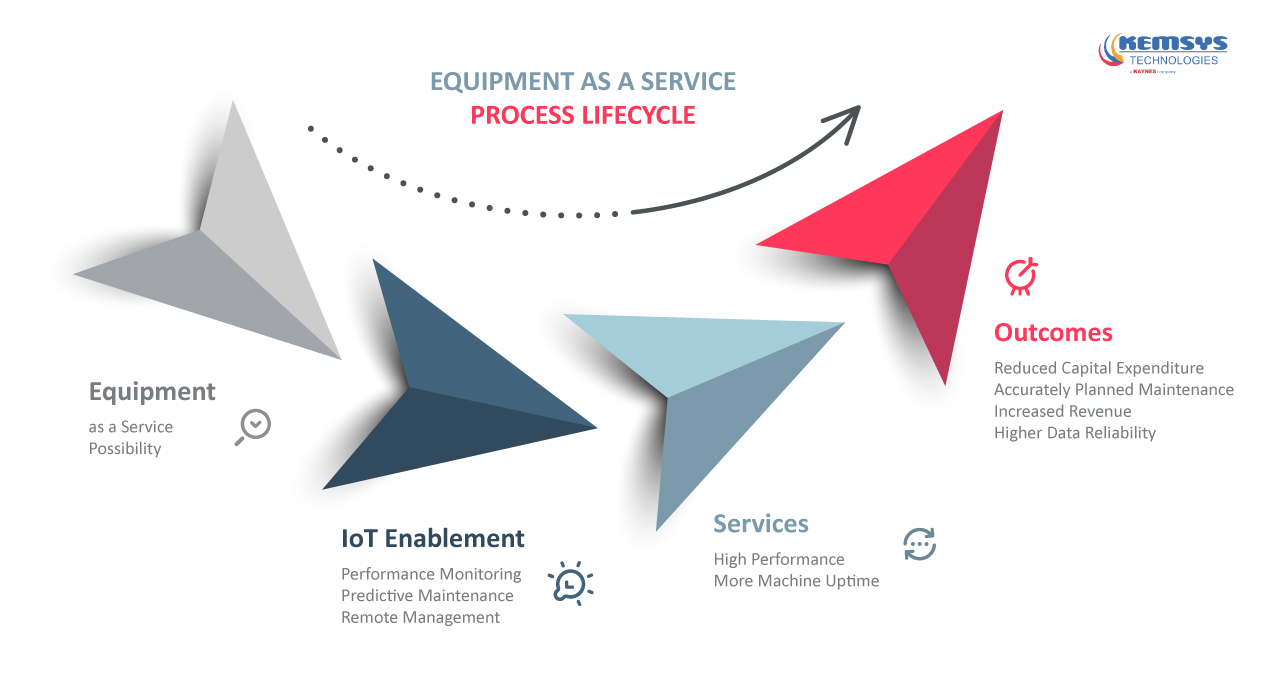 Summarizing
There is no doubt that by adopting the Equipment as a Service model, industries can significantly level up their growth in the least time period. Hence, OEMs looking for IoT for business model like Equipment as a Service must leverage IoT platforms and cloud services to drive data collection and process initiatives to make their processes digital and more effective.