Condition Monitoring – How IIoT is Amplifying its Benefits
April 20, 2021
Posted by:

Swapnil Ghaisas

Categories:

Digital Engineering, Internet of Things
Condition Monitoring (CM) is a maintenance approach of measuring specific equipment parameters, monitoring signs of any significant changes that predict health and could be indicative of an impending failure.
This approach empowers plant maintenance officers to remotely monitor the health of each individual piece of machinery and also offers a holistic, plant-wide view of mechanical operations. Continuously monitoring the condition of equipment and taking note of any irregularities that would normally decrease an asset's lifespan allows maintenance or other preventive actions to be scheduled to address the issue(s) before they develop into more serious failures.
Condition Monitoring Techniques
Condition monitoring techniques are standardized through ISO and American Society of Testing and Materials (ASTM). Below are the most common techniques used for gathering data on the current condition of machinery.
Vibration analysis
Oil analysis
Infrared thermography
Ultrasound
Acoustic emissions
Condition monitoring techniques are typically used on machineries such as pumps, compressors, chillers, transformers, electric motors, presses and internal combustion engines, backup or secondary systems, and rotating equipment (gearboxes, reciprocating machines, centrifugal machines, etc.)
There are two common methods used for condition monitoring:
1. Trend Monitoring – continuous, regular measurement and interpretation of data
2. Condition Checking – taking a periodic check measurement with an appropriate indicator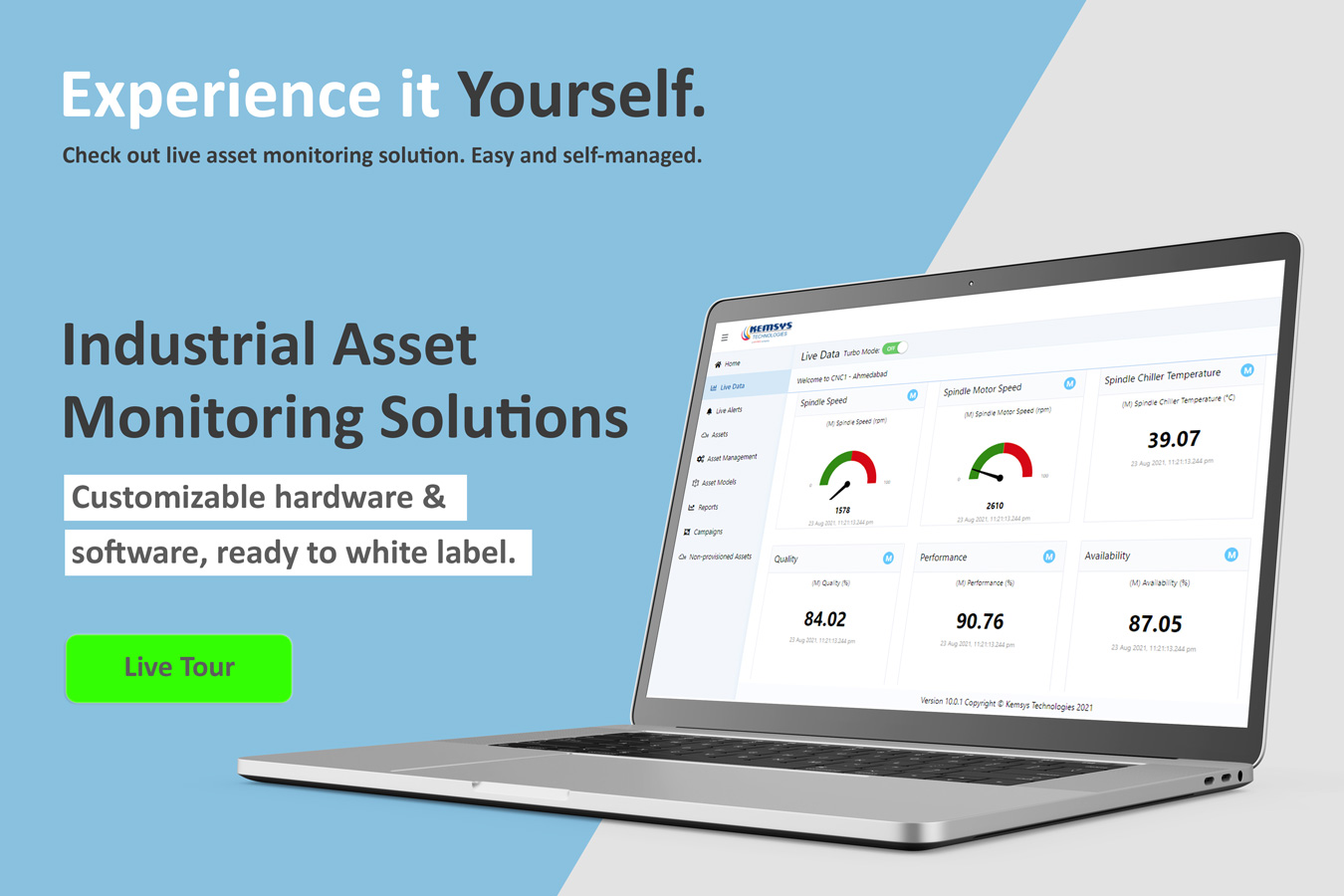 Benefits of Condition Monitoring
Condition Monitoring in Industry 4.0 – An Advanced Maintenance Technique
There was a time when condition monitoring was carried out by an experienced engineer by holding a wooden stick against a piece of machinery and assessing the frequencies and harmony of its vibrations. While this technique could be useful in assessing the condition of the machinery, we are fortunate to be around in the age of Industry 4.0 with Advanced Maintenance Techniques (ATMs).
How IIoT is Turbo-Boosting Condition Monitoring
The industrial internet of things (IIoT) is primarily a network of interrelated devices on mechanical and digital machines that facilitates the transfer of data over a large network without needing human-to-human or human-to-computer interaction. Modern condition monitoring systems use the power of IIoT to integrate numerous types of monitoring software into one system in real-time, accessible from anywhere in the world and across multiple devices.
IIoT-connected condition monitoring systems enable organizations to easily monitor several aspects of each asset and identify performance, detect anomalies and even automatically schedule maintenance based on predefined limits.
Advantages of IIoT-Connected Condition Monitoring
Some of the biggest advantages of IIoT-connected condition monitoring include:
Cloud Storage:

One of the most powerful aspects of IIoT is that it allows us to gather and store a massive amount of data as compared to local servers or in data centers. This gives a critical edge due to the constant stream of data populated by a machine connected to online condition monitoring systems. For example, research shows that one wind turbine takes 2,000 readings per minute, which roughly equals nearly one terabyte of data each week.

Smart Analysis:

IIoT-based condition monitoring systems use smart algorithms to derive conclusions about the health of assets and ways to improve the accuracy of diagnosis.

Inter-connected Data Sharing Across Multiple Machines:

A significant amount of data is needed for smart algorithms to have enough data points to generate a predictive model. For instance, close to 100 instances of bent shafts might need to occur to train a predictive model to identify vibration levels that lead to bent shafts, which could take years. Acquiring vibration data from multiple machines of the same type simultaneously lets technicians collect the same amount of data in much less time. Additionally, gathering data from many machines increases accuracy and improves the success of the predictive model over time.

Minimum human interaction:

IIoT-based systems allow remote monitoring of hundreds of industrial machines from remote locations and on multiple devices. This is a critical 0.benefit for industries like electric power and oil and gas, as it makes monitoring remote installations like pipelines, offshore drilling rigs, and sea-based wind turbine installations easier. IIoT-based systems can automatically collect, aggregate, and disperse real-time data to technicians anywhere in the world.