November 29, 2022
Posted by:

Anand Borad

Category:

Cloud Engineering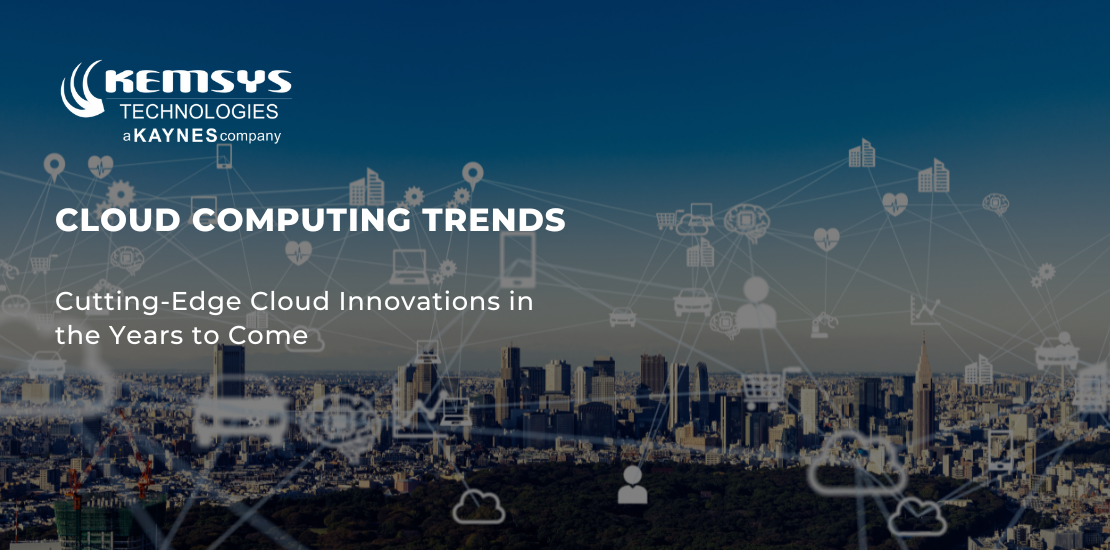 The field of cloud computing is rapidly evolving, and it is anticipated that this area of the IT industry will continue to be at the forefront of cutting-edge innovations in the years to come. The widespread usage of cloud computing has made it possible for some of the most innovative technological developments. This encompasses remote and hybrid working, artificial intelligence (AI), and the internet of things (IoT). Future advances like quantum computing, the metaverse, cloud gaming, and virtual and augmented reality (VR/AR) are just a few that we can envision it enabling.
The cloud computing networks specifically assisted with the viability of a work-from-home setup during the COVID epidemic, when remote working was the only alternative, to assure ongoing operations. Businesses that employ cloud computing have access to a variety of tools and apps, which aids in their digital transformation. Additionally, a more adaptable and cost-effective method of data access and storage is offered.
Only cloud computing makes this possible because it does not need to spend money on acquiring and maintaining the expensive infrastructure required for these demanding computer applications.
Top 5 Cloud Computing Trends that will Help Businesses in 2023
Below mentioned are some of the most promising cloud computing trends that we believe, will drive the industry forward.
1. Internet of Things
IoT is one of the most well-known upcoming trends in cloud computing. It is a technology that keeps networks, servers, and computers connected. IoT functions as a mediator, ensuring successful connectivity and assisting in data collection from distant devices for efficient operations. It also provides assistance in a variety of other ways, such as resolving warnings and supporting the security protocols established by businesses to create a safer cloud environment.
2. Edge Computing
A new method of processing data called edge computing does not conduct activities inside of a data center. As an alternative, computing and storage take place within specialized hardware at or close to the network's edge. In 2023, edge computing will be crucial as more businesses attempt to increase efficiency by fusing edge devices with the cloud.
3. The AI and ML-Powered Cloud
Few firms have the capacity to build their own AI infrastructure, thus artificial intelligence and machine learning are offered as cloud services. Large amounts of computational power and storage space are required for data collection and algorithm training, and renting these resources as a service is typically more cost-effective. Internally, cloud service providers are increasingly using AI for a range of functions. This entails running the substantial, dispersed networks required to provide storage resources to their clients, running the cooling and electricity systems in data centers, and supplying the cyber security tools that safeguard their data.
4. Low-code and No-code Cloud Services
People are extremely interested in platforms and tools that enable anyone to build applications and use data to solve problems without writing computer code. Programs for building websites, web applications, and just about any other kind of digital product a company might require are included in this group of low-code and no-code solutions. Due to the availability of low-code and no-code solutions, the entry barriers for businesses looking to use AI and ML have been significantly reduced.
5. DevSecOps
Development, security, and operations are referred to as DevSecOps. Security components are integrated into software development practices at each level up until a created solution fails to perform as expected. DevSecOps evolved from DevOps, hence moving toward DevSecOps implementation in the future will gain pace. DevSecOps incorporates security into the CI/CD pipeline, allowing development teams to respond quickly to some of the most pressing security issues of the day.
Conclusion
With confidence, we can say that the future of cloud computing will see rapid change. In the future, it is projected that this section of the IT industry will continue to be a technological innovator. Cloud computing may assist businesses with their digital transformation by granting access to a variety of resources and applications.
Kemsys's end-to-end cloud engineering services with well-defined cloud computing frameworks help modern organizations to Migrate, Optimize, and Scale their cloud operations.