3 Areas to Take Your Pump Analytics Game to the Next Level
December 18, 2020
Posted by:

Sanket Pathak

Categories:

Digital Engineering, Quality Engineering, Thought Leadership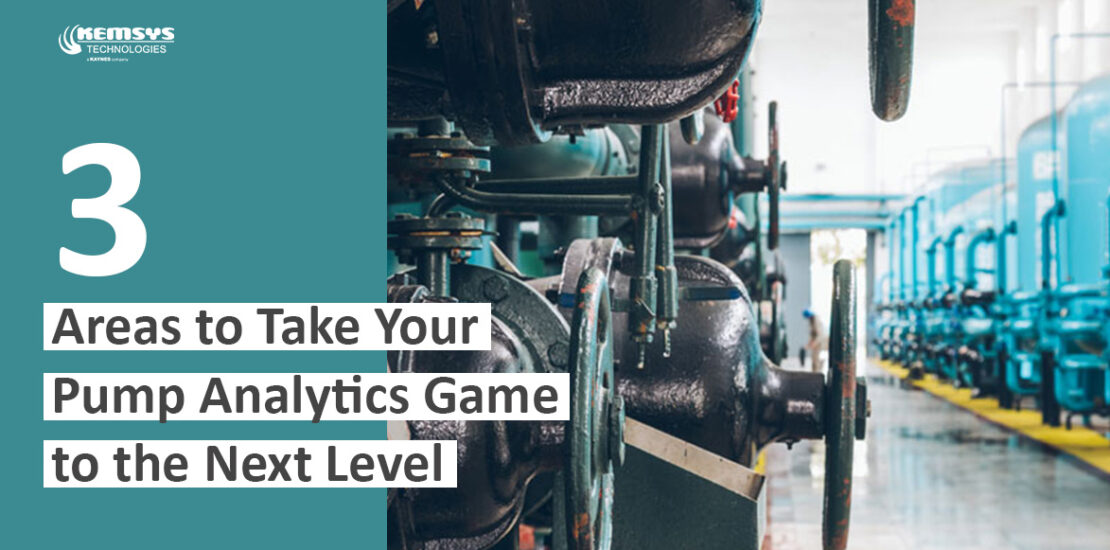 Companies are leveraging AI and ML technologies to achieve incredible precision, accuracy, and speed over traditional business intelligence tools to analyze IoT data. With the advent of predictive maintenance, enterprises can make operational predictions up to 20 times faster and with greater accuracy than threshold-based monitoring systems.
Today with all the modern technologies, it is possible to integrate automation systems designed in the past only to control the production process, with IT systems that make all processes more efficient through the use of advanced analytic tools.
In this article, we will discuss multiple use cases categorized in 3 main verticals where Artificial Intelligence leverages industrial pumps.
Predictive Maintenance
McKinsey reveals that the maintenance costs typically range between 20–60 percent of Opex spend, depending on the industry, asset type, and Capex spend—an opportunity that has only been a minor priority over the past couple of years. With the advent of predictive maintenance, the rules are now derived by fixing the answers (results) first and then analyzing the anomalies around operational parameters and conditions. Our AI-enabled engine allows the user to avoid the situation of pump breakdown with the help of corrective recommendations provided straight from the device.
Use Cases & Offerings
Predictive Maintenance of Pumps with Failure Prediction
Memory options: 1GB LPDDR3, 8 GB eMMC and 1 µSD card interface
Early Warning Systems with real-time alerts & recommended corrective action
Root Cause Analysis & Correlation Analysis
Visualization & Reporting of KPIs & Alerts
Remote Monitoring & Control
One of the major challenges for industrial assets is the limited visibility around the performance and status of an individual or a group of assets. Remote monitoring using sensors, gateway, and web-enabled dashboards is highly useful in monitoring such assets even for those operating from remote and distributed areas.
Use Cases & Offerings
OEE Monitoring & Improvement
Monitoring & Predictions around machine uptime
Digital Twins for Operations
Root Cause Analysis & Correlation Analysis
Visualization & Reporting of KPIs & Alerts
Inventory Optimization
In the case of failure detection, either there will be a requirement of some spares or replacement of the pump as a whole (which is a rare case) and for the same reason, there are system requirements around the integrated mechanism that can link the maintenance schedules to inventory. Aspects such as inventory optimization, vendor matching, and contract management are also critical for this offering.
Use Cases & Offerings
Inventory Management & Optimization
Vendor Matching & Contract Management
OEM Part Analysis & Rating
Inventory Status Monitoring
At Kemsys, we bring a unique perspective to asset reliability for industrial pumps.
Kemsys's AI-enabled asset management product enables the managers and technicians to tackle adverse conditions more effectively by giving them more time to make crucial decisions.
End-users such as operators and senior management executives can get relevant information remotely from a centralized dashboard which points to the corrective action recommended for a diagnosed fault. Alerts can be in the form of email/SMS for any violation of the limit. With the adverse situation of global pandemic happening across the world, knowing the exact problem of the equipment responsible for lower production from remote locations is the real challenge. Our solution is a cost-efficient smart artificial intelligence-enabled solution that empowers you to remotely monitor and improve the overall equipment effectiveness of your industrial pumps.
We at Kemsys have been able to consolidate various methods for AI-enabled monitoring of the industrial pump
Planning the scheduled maintenance as per standard recommendation
Utilization of multiple sensors installed on the pump to alert of the impending failure
Using preventive maintenance tasks based on real-time condition monitoring
Using a wide variety of technology-enabled monitoring devices, our integrated asset health and management system