Remote Pump Monitoring
KEMSYS offers end-to-end secure and reliable remote pump monitoring systems, allowing end-users to monitor, manage, and analyze pump data from any internet-enabled PC and Mobile at a very low cost.
Our remote pump monitoring system is cost-effective, reliable, scalable, and easy to deploy within an industrial pump set-up environment. It's capable to support all the combinations of pumps with and without control systems (including PLC/SCADA/DCS) across key industry verticals including Chemical & Pharma, Food & Beverages, Oil & Gas, Metals & Mining, and Cement.
Maximize the Pump Output & Stability
Condition Monitoring
Integrated sensor to the cloud system to perform real-time processing of critical parameters for assessing the current health and predicting the future health
Predictive Maintenance
Field-proven predictive maintenance models for pump operations covering asset health index, failure & alarm prediction, early warning system & recommendations.
Remote Diagnostic
With real-time monitoring of telemetry, event, and alarm history, our remote diagnostic application can help keep your system running
Remote Configuration
Online utility to remotely update pump configuration and firmware minimizing manual reconfiguration effort and resource allocation
Alert & Notifications
Get all critical alarms/alerts and notifications in real-time and automatically transmit them to the right individual (floor managers) for immediate actions
Operation Visualization & OEE
Intuitive dashboard to give holistic pump operation health information and OEE reporting all in one place for optimum management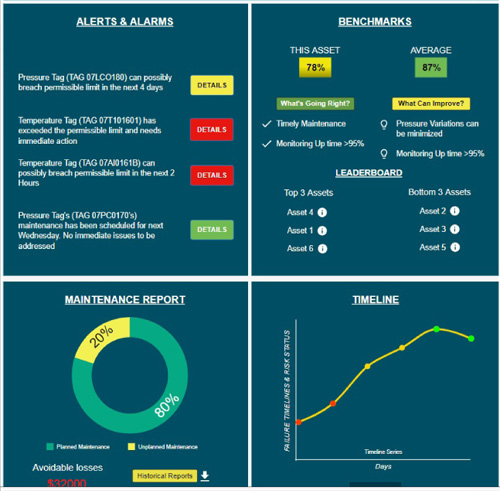 System Building Blocks
Non-Intrusive
Sensors
Industrial grade wired & wireless, precise and field-proven IoT sensors customized to retrofit with field-deployed pumps
Device
Management Platform
Ready-to-Use IoT Remote device management platform helping to Manage, Monitor & Control industrial assets
Data
Acquisition System
Rugged IoT Gateway with expandable digital, analog, PLC IOs and integrated software
ML Models &
KPI Dashboard
Mature Predictive Maintenance ML model and ready to you use OEE and operation KPIs dashboard